I don't like cinnamon.   But I like Snickerdoodle cookies.  Somehow, they aren't very cinnamony even though the cookies are rolled in a cinnamon and sugar mixture before baking.  I tweaked a good recipe for them after we broke down and bought some frozen dough from the Girl Scout on our street who needed to make her quota.   After reading all the chemicals and stabilizers on the ingredient list on the side of the leaden plastic bin the "Gourmet" dough came in, I very quickly got out a mixing bowl.    And so:
Preheat the oven to 400 degrees and  get out a baking sheet.  I have a teflon baking pan I have been using forever.  The dough is buttery so don't grease the pan.  It messes up the intended crunchy texture.  Another weirdness is I don't use a mixer since I hate cleaning the equipment.  I just soften the butter so mixing is easy and use the back of a soup spoon to incorporate the ingredients.   Please, feel free to use a mixer, but  don't overbeat once the eggs are in.
You'll need:
1 1/2 cups white sugar or Zukar brand cane sugar, which I use quite a lot
1 teaspoon vanilla extract
2 eggs
2 3/4 cups all-purpose flour
1 teaspoon cream of tartar  (some say it 's not necessary but it makes the cookie nice and crumbly)
1/2 teaspoon baking soda
Some bakers call for 1/4 teaspoon salt. I leave this out as the baking soda is salty enough.
Cream butter and sugar together.  Add the vanilla and eggs.  Mix well. Meanwhile,  measure out the flour into a big enough cup or bowl so you can add the cream of tartar and baking soda.  I run a knife through so the flour has this worked through a bit.   Mix the flour etc.  into the egg, sugar and butter.  It takes some persistence as this is a stiff dough.  You're then going to make little 1 to 1.5 inch dough balls and roll them in:
2 tablespoons white sugar mixed with 2 teaspoons ground cinnamon.  I always end up with extra, so put more sugar in it and you have enough for cinnamon toast the next day.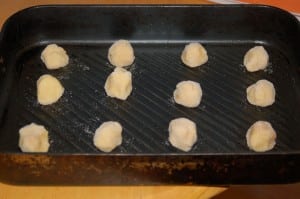 Space them 2 inches apart and bake for 8-10 minutes.  Last time, I set the timer for 8 hours instead of 8 minutes, but luckily a certain smell beckoned me into the kitchen and I got them in time.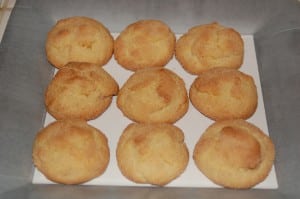 Voila, as they say in Paris.  I think Snickerdoodles would sell well in France.  But how to translate the name?