Knowing I would be at loose ends in L. A. with our 8 year old on a summer Saturday night, I seized the chance to visit Animal Restaurant on Fairfax, white hot popular and still bustling since their opening in 2009.   I called ahead to try and get a 6 p.m. slot.  Their new system has you leave a message with your request and they phone you back.  As we  drove to the Natural History Museum by USC, I got the call.  Not possible, but come right at 6 and we'd likely get a bar seat. Good enough.   We would be "nose-to-tail "eating very soon.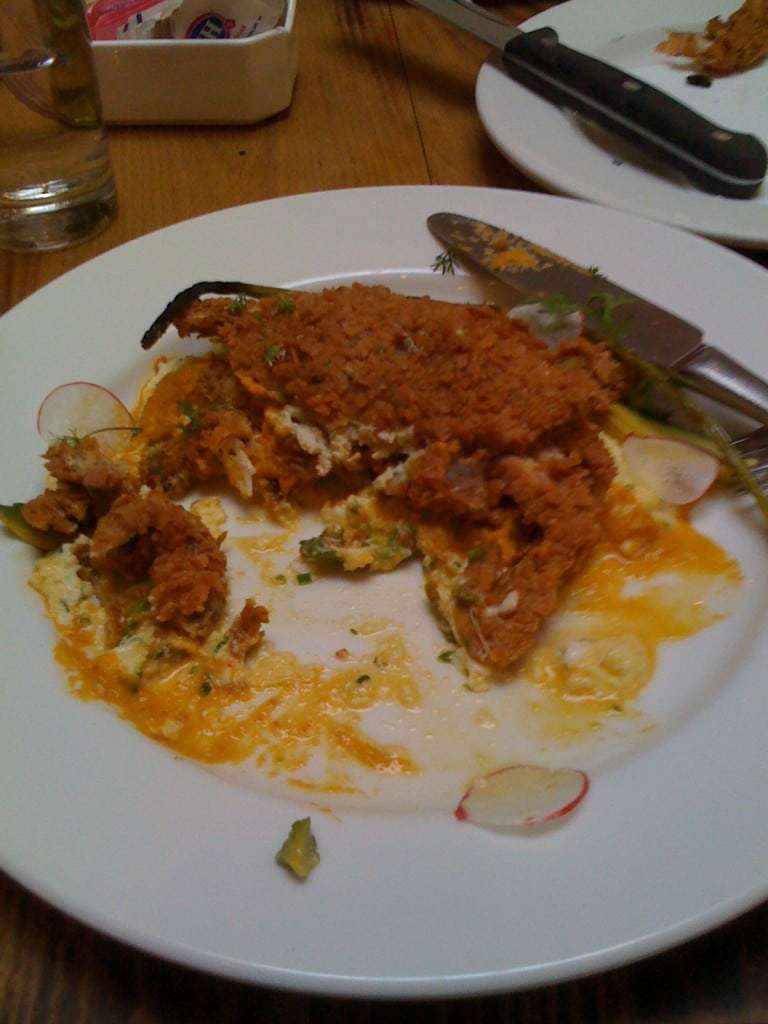 We showed up at 5:45 to find a bearded owner/chef outside (not sure whether it was Shook or Dotolo), quietly yelling at some teens along the lines of  "my roof and don't get on it, of course I called the cops." Some graffitiing kids had broken his gas line.  The restaurant would not be opening until it was fixed.  The gas company was working on it as we spoke.   I took the opportunity to shake his hand and said we were excited to eat there.   As dolled-up couples showed up for their reservations, the situation was explained over and over.  The hostess brought out some house wine for any takers.  Juliet was given a lemonade and some cookies.  The hostess also confided she had a cancellation, so a table was ours.   Still,  the wait dragged on and we arranged to come back.  We went to the car and played a tough game of Go Fish. Juliet cleaned my clock using her uncanny ability to get exactly the right cards from my hand just as I was ready to pounce.
We returned and were whisked to a table ahead of  a few others.  Juliet called out a hello to Ashley, the manager who gave her the treats.  I suppose we were seen as insiders.  Too funny.   I toyed with getting the rabbit loin spring roll, and certainly the liver pate on toast, but with a child, unless you are a mean adult, you order one course and that will do it for patience, hunger and tolerance for doing a boring grown up thing. Juliet ordered  the flat iron steak with fingerling potatoes and artichokes, finished with a parmesan truffle oil fondue.   I cannot, and did not, resist soft shell crab, over scrambled eggs, sandwiched with a pureed salsa.  I got a glass of a decent French rose and we staved off hunger with a side of garlicky grilled bread, finished with salt.
Our waiter eyed the presence of a child warily.  C'mon dude.  Two tables down featured some glamorous parents out with their 3 year old and a 6 month old in a carrier!   Ashley saw to it we got our food quite quickly.  Juliet was admired for eating a medium rare steak.  She loved it but found the sauce "a little cheesy."  Fair enough.  My crab, appropriately, had the liver, so I got a nice burst of mustiness as I ate.  That's what you pay for at Animal, and I got it.
Animal Restaurant Review – Final Thoughts
Restaurants usually get complacent after being open a while and endlessly popular.   Animal Restaurant seems in top form, while also maintaining a friendly and unflappable vibe.  It's a neat trick to turn over tables all night while  not seeming to rush your customers.  Very much a plus is their inclusion of sides with your entree.  Too many chefs see every dish as a chance for another sale.  Also appreciated by lots of tables the night we were there was the BYOB policy with a $20 corkage fee.