Sure, call it cole slaw.  If you are a patient cabbage slicer, or have a Cuisinart handy, make slaw.  I am often just cutting cabbage thin enough for a hurried weeknight dinner.   We have some kind of salad with every meal but breakfast, and cabbage keeps so well it's our go-to when the forgotten lettuce has given up the ghost and turned sad and brown.   How often do we have salad?  One week, through separate, uncoordinated trips to Costco we bought 11 heads of lettuce.  Ate them all over a 10 day period.
For a side salad for 3 or 4 people, half a head of green cabbage is perfect. To make:
Cut out the white "heart" at the bottom – it's really too tough to eat.    If you have a dog, he'll happily gnaw on it as a veggie bone.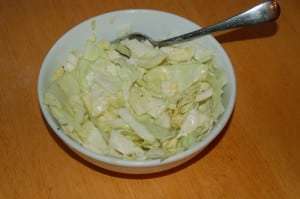 Then slice the cabbage into the smallest bite size pieces (or slivers) you have the patience for.   In a decent-sized bowl, mix 2 heaping tablespoons of mayonnaise,  1/8 cup of rice vinegar, a teaspoon of sugar, a few grinds of black or white pepper, and  1/2 teaspoon paprika or mild ground chili pepper for color and a bit of bite.    Add the cabbage and stir.  If the dressing seems a little thick, thin it with rice vinegar.  Once the cabbage is coated, chill it in the fridge until you are ready to eat.  The vinegar will soften the cabbage and it will "sweat down" a bit.
If you have one on hand, grate a peeled carrot into it for color and sweet flavor.  Everything-but-the-kitchen-sink-types add raisins to this but I find it is overkill.  I always taste it and salt at the end, but I am a salt head.   Lots of people don't salt their slaw.